Natural Hair Loss Treatments in Las Vegas, NV
Backed by over 36 years of hands-on experience, JC Chicago Hair Creators is your leader in natural hair loss treatments. We specialize in trichology and treating hair loss, receding hairlines, thinning hair, and baldness, and we're in the business of providing all of our customers with a renewed sense of happiness and self-confidence.
Giving You the Highest Quality of Life
We are State Board of Cosmetology Licensed.
We are Nevada State Business Licensed.
We are certified by the Medical Hair Institute as a Hair Restoration Consultant.
Our hair tech has completed the Lace Class Certification at the Hair Replacement Academy
We perform women's and men's hair loss treatments that are completely non-invasive!
We consult with you to make sure you're getting the hair you deserve.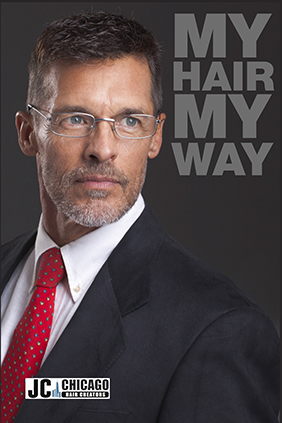 Men's & Women's Hair Loss Treatments
Losing your hair can be a devastating blow to a person's self-confidence and one that's not easily overcome without some professional help… but with all of the pills, hairpieces, treatments, gels and more out there, how can you ever hope to know where to begin looking for help? Well, at JC Chicago Hair Creators, we make it easy for you to stop and reverse your hair loss in Las Vegas, NV, without putting you through the ringer of expensive products or procedures. We offer hair loss restoration in Las Vegas through hair replacement: a revolutionary method that doesn't involve any invasive procedures or sensitive chemicals! It's as simple as walking in for your appointment and walking out with a lush, full head of hair!
When you choose JC Chicago Hair Creators for women's or men's hair loss treatments in Las Vegas, NV, you're making a choice for a better quality of life! Our clients don't just walk out with a smile on their face and a full head of hair—they do on to live their lives to the fullest, without the prospect of hair loss holding them back. From skydiving to swimming and everything in between, there's nothing you can't do after a hair treatment with us! Take a look at why people suffering from all forms of hair loss continue to trust the natural hair loss treatments at JC Chicago Hair Creators to give them back the full head of hair they've lost:
Proudly offering men's and women's hair loss treatments to clients in:
Las Vegas, Nevada
North Las Vegas, Nevada
Henderson, Nevada
Paradise, Nevada
Enterprise, Nevada
Summerlin South, Nevada
Nellis, Nevada
Mesquite, Nevada
Laughlin, Nevada
Clark County, Nevada